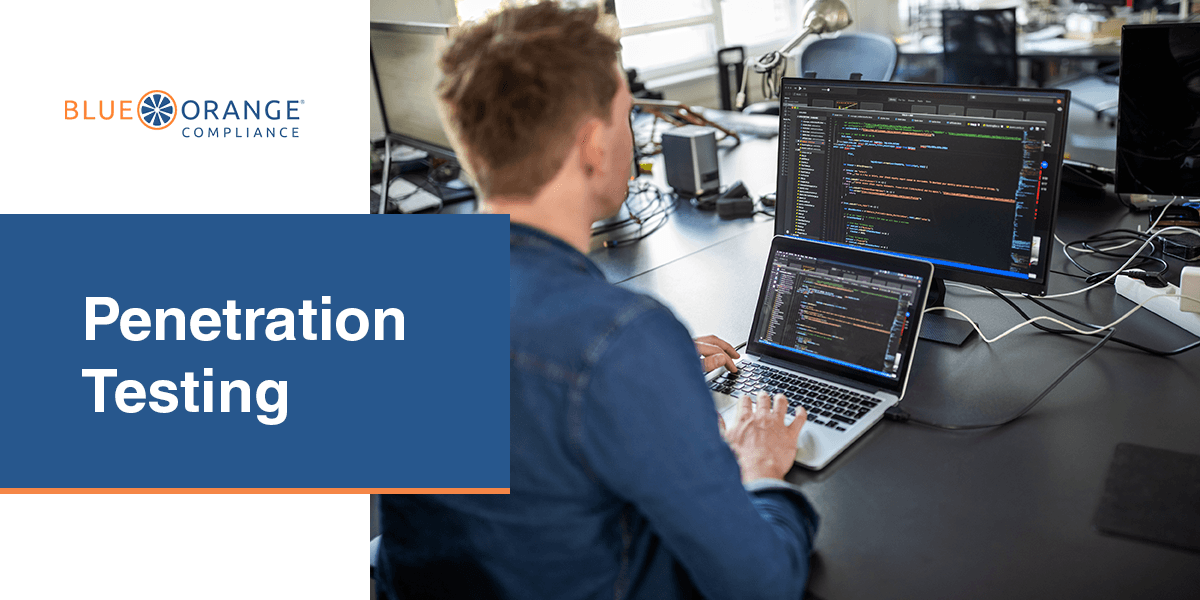 Protect Your Organization
Considerable business continuity data and ePHI can be stolen in the months it may take to recognize a cybersecurity attack. Penetration (pen) testing identifies vulnerabilities so you can correct them before they are exploited. Employing the same techniques malicious actors use to get to valuable information, our certified ethical hackers can proactively identify potential concerns.
What Are Network Penetration Testing Services?
Penetration testing companies provide services to look for security vulnerabilities in your network. These gaps in security could create openings for hackers to gain sensitive information about patients, breaking Health Information Portability and Accountability Act (HIPAA) compliance. Regular testing ensures your network is robust enough to avoid the most persistent of hackers from getting access.
Any type of a network can benefit from pen testing. For instance, industrial control systems (ICS) connected to computers can become dangerous if a hacker were to gain access to the ICS. Individuals working near the equipment controlled by the ICS could sustain injuries if the system stops working properly. Therefore, ICS penetration testing is just as important as putting office systems that must meet HIPAA security requirements to the test.
Pen tests can encompass a variety of levels and focus areas that pinpoint ways unethical hackers can get into the system. When you choose pen tests, you can choose from the following focuses:

Internal Network
Attack from the perspective of someone who has plugged a device in to the corporate network.

External Network
Attack from the
perspective of anyone
with internet access.

Phishing
Test user response rates
to phishing emails.
How Can Cyber Security Penetration Testing Services Benefit Your Organization?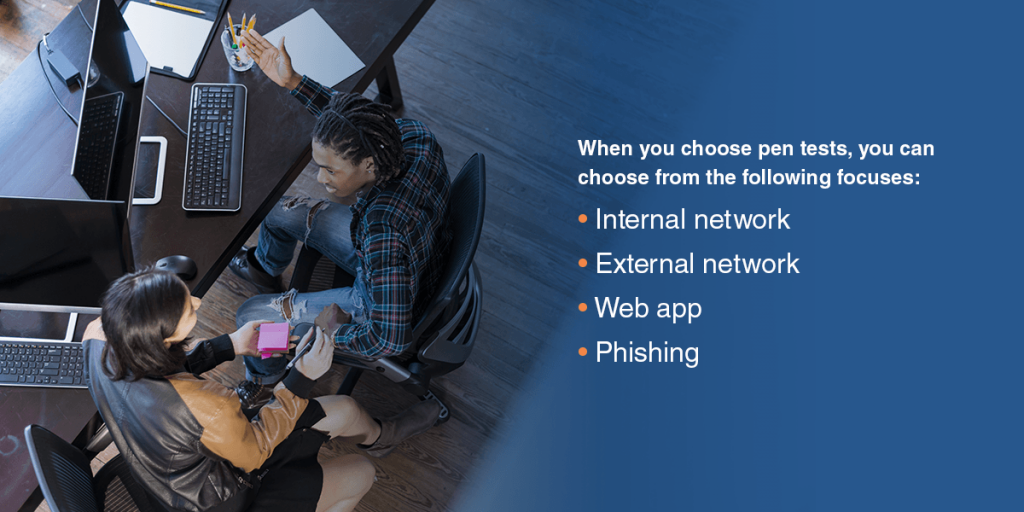 Organizations benefit from cybersecurity pen testing in numerous ways. Most notably, these tests assess your system and identify vulnerabilities before a security breach or complaint occurs. This gives your company time to fix the problem before incurring fines or penalties.
Pen testing may also be a qualifier for getting cyberattack insurance. Therefore, this step could be necessary for gaining a way to protect your organization in the event of an attack.
Penetration testing combined with taking appropriate actions to close security problems can enhance your company's network and help you avoid the costly liability of data breaches. Since data breaches can create negative press, result in fines or cause lost finances, preventing them saves your organization time, money and headaches.
Choose Your Scope - Penetration Testing Scope and Steps
The scope of pen testing starts with the amount of access a hacker would have to the system. Targeted testing examines the most commonly used methods for accessing your system. However, this method does not uncover every vulnerability. Each testing scope has benefits and will look at how hackers could access data using different approaches.
This test is intended for organizations that have not had a penetration test recently, or ever. It looks for the  that a hacker will gain access to sensitive information from inside a network. The 101 Test uses standard methods that a hacker of average ability and no internal network knowledge would have. For example, they may use automatic scanners to find openings in the system or use standard manual hacking methods.  The 101 Test is able to be performed on on-prem or hybrid Microsoft Active Directory environments.
Intended for organizations that conduct regular penetration testing, this test looks for the most common vulnerabilities but will also take a deep dive into uncommon methods hackers have used to gain access to sensitive information from inside and outside of a network. A security expert performing a 201 Test has user-level privileges into the network to test vulnerabilities from inside and outside the system. This level of testing may require the tester to know what a current or former employee would know about the network's architecture and security measures. It can find problems with system entry by those who have network access. The 201 test is able to be performed on on-prem or hybrid Microsoft Active Directory environments.
This is our tailored test designed for organizations that consistently conduct penetration testing. Organizations with a mature security posture that utilize a multi-layered security approach may want to consider a 301 test. Additionally, this test is a good option for organizations that are primarily cloud based. Contact us for information on how we can formulate a test designed for your environment.
Take Action - Our Network Penetration Testing Methodology
When we conduct network penetration testing, we use a standardized methodology that ensures thoroughness in evaluating the system and providing information to help your organization make corrections to security gaps.
The first step of any test is always planning. During this phase, we work with your organization to identify the scope and focus of the test. After deciding these vital attributes, we can gather the information we may need to conduct the pen tests. For instance, if you need a full test of internal issues, we may need network information, depending on the level of testing.
As with all phases, the planning phase relies on careful communications between us and your organization so we can approach the penetration test in a way that meets your company's needs.
The next step starts with scanning the system to find issues that could allow for intrusion. This may include examining the code during operation and when a program is not running.
Next, our testers will try various methods to access the system. Depending on the focus that you chose, we may test employees' responses to phishing emails, attempt to get into the network from outside or use internal credentials to see how much unauthorized access someone with network access can gain.
Exploiting is an important step in the process. This point of penetration testing finds out what sensitive data can be accessed or compromised and how long our testers could potentially stay within the system unnoticed. During this portion, our team will test the system, gather information and proceed to the analysis phase.
Lastly, we analyze the results and present your organization with a report of our findings. We outline carefully how well your system meets security standards established by the NIST CSF by giving your organization a clear scale of compliance from 0 to 100 and color-coding on each element. An executive summary at the top of the report makes the information easy to understand for non-IT experts.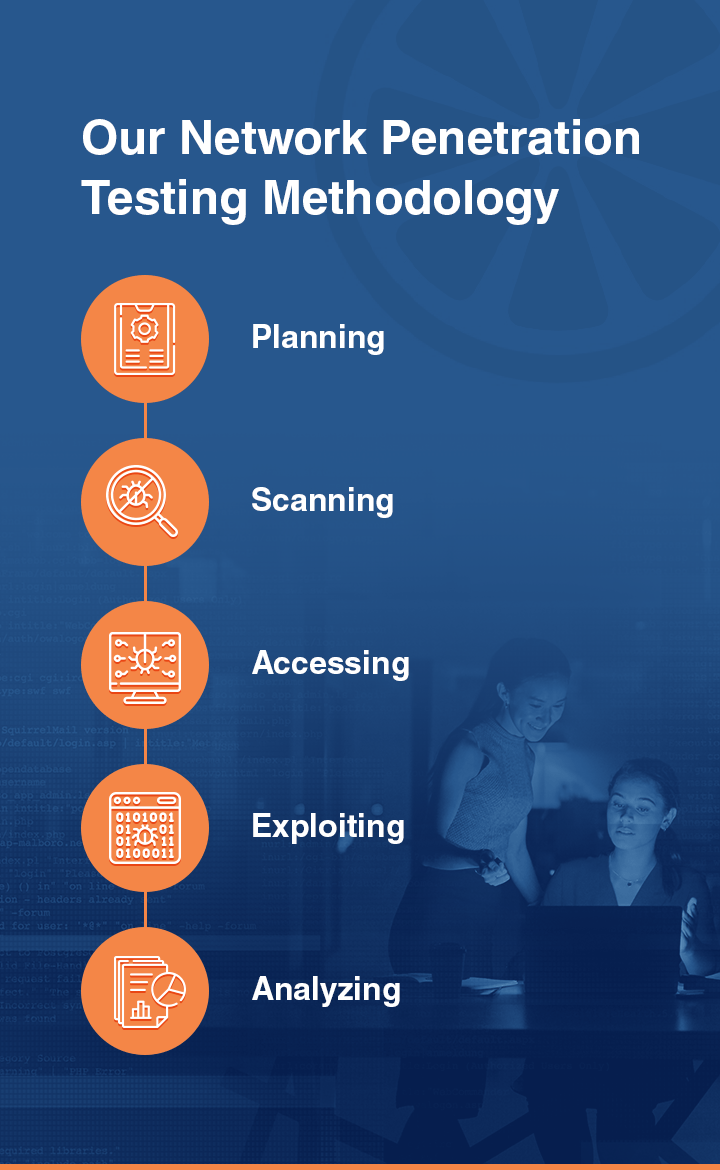 Benefits of Performing a Penetration Test
There are several ways that performing a penetration test will benefit a company.
A Plan for Change
When working with BlueOrange Compliance, you have clear actions to take after the test. Unlike others, we offer you several options on how to fix the issues identified from your pen test.
Remediation: Receive a detailed road map and plan on how to correct vulnerabilities
Guidance: In addition to a detailed remediation plan, you will receive engineer-assisted support
Confirmation: Whether you opt for guidance or choose to remediate on your own, validate that all vulnerabilities have been corrected by retesting.
Knowing how to make changes and what security gaps you have can ease the process of upgrading your organization's network to close vulnerable areas.
Regulatory Compliance
Meeting regulatory compliance requires keeping a secure network and protecting data. The Payment Card Industry Data Security Standard (PCI-DSS) requires industry-accepted penetration testing of systems that handle credit card data. Even if your organization is a medical clinic or hospital, if it takes patient credit cards, you must meet PCI-DSS.
While HIPAA does not explicitly require pen testing, the National Institute of Standards and Technology (NIST) recommends this practice as a way to satisfy the HIPAA requirement for evaluating the state of a system's data security. The results from penetration testing can also help to make meaningful changes to bolster the data security of your organization.
Enhanced Data Security
With the thorough evaluation of pen testing, your company can benefit from an analysis of the procedure to find out how you can improve your network. With a clear approach to reducing security flaws, making the changes is more cost-effective than attempting to create sweeping amendments that may not be necessary.
Better data security prevents breaches, ensures compliance, passes Office of Civil Rights (OCR) audits and protects your customers' or patients' information.
Contact BlueOrange Compliance to Learn More About Our Penetration Testing Services
At BlueOrange Compliance, our professional services, penetration testing tools and expertise have gained us a 100% OCR audit pass rate and allowed us to retain 98% of our customers. We understand the struggle of maintaining a high level of cybersecurity to comply with HIPAA requirements. With our testing methods, we can identify issues and correct them before they cause problems. For more information or to see for yourself how our services can benefit your organization, request a consultation.